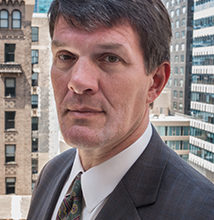 Michael D. Steger focuses on intellectual property, entertainment, litigation, and corporate and other business matters. Whether in business transactions, litigation and other disputes, or counseling behind the scenes, Mr. Steger strives to provide value and cost-effective services to the individuals, companies and other entities that he serves.
Mr. Steger's intellectual property practice includes trademark registration and prosecution, copyright registration, trade secrets and other intellectual property litigation, and counseling on corporate branding. He regularly handles copyright litigation matters involving the infringement of copyrights in the fashion and entertainment industries. In 2010, he was named "Best Intellectual Property Attorney for Growing Businesses" by New York Enterprise Report magazine. Mr. Steger has acted as the sole trial lawyer in several jury and non-jury trials, as well as arbitrations. In recent years, he has tried cases on copyright, breach of contract, fraud and insurance issues in federal and state court.
Mr. Steger's entertainment practice focuses on film, television, internet and music projects, and he represents producers, artists, writers, directors and production companies. Among other matters, he has handled film, television and online financing, production, distribution and syndication agreements.
Mr. Steger's corporate and business experience includes forming and dissolving corporations, limited liability companies and partnerships, as well as contract drafting and review, drafting buy-sell and other shareholder agreements, and handling investment transactions.
From 2000-2005, Mr. Steger was in-house counsel for STF Productions, Inc., the producer of Fox's "America's Most Wanted" and the syndicated "Final Justice," where he also handled business and legal affairs for other Fox entities. In these roles, his portfolio included handling entertainment, media, intellectual property, internet, litigation and employment matters for the programs, as well as union issues and other business negotiations.
From 1993 to 2000, Mr. Steger practiced law in Los Angeles, California, concentrating on litigation in state and federal court. He handled all aspects of litigation for clients ranging from individuals and partnerships to Fortune 500 companies. Mr. Steger was responsible for a wide range of commercial litigation matters, including entertainment, intellectual property, employment, bankruptcy, real estate, business and construction disputes.
Mr. Steger is a member of the American Bar Association's Litigation Section (Co-Chair Copyright Litigation Subcommittee 2014-present; Co-Chair Regional CLE Subcommittee 2010-2014), General Practice/Solo Section (Vice Chair, Intellectual Property Committee), Communications Law Forum and Entertainment and Sports Law Forum; and the New York City Bar, where he has been a member of the Copyright and Literary Property Committee and the Trademarks and Unfair Competition Committee. He is a member of the New York, California, Virginia and District of Columbia Bars.
Mr. Steger received his J.D., M.A. and B.A. from the University of Virginia.