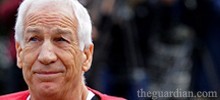 The trial of Jerry Sandusky began Monday before the Centre County Courthouse in Bellefonte, Pa — and it is ugly. Prosecutors painted a picture of Sandusky using the list of children at the charity as his own personal scouting report, with Sandusky even putting asterisks next to the names of certain boys he wanted to abuse. The first witness, now a 28 year old man, took the stand and offered several hours of disturbing, often graphic, testimony of how he was abused and sexually assaulted in locker rooms and showers by Sandusky. "When we were alone, it was basically like I was his girlfriend," said the accuser.
On Tuesday, a second witness took the stand. The 18-year-old broke into tears at a number of points throughout his testimony. He too went into often graphic detail about the sexually abusive relationship he was forced to have with Sandusky, which began when he was in grade school. He discussed being assaulted at Sandusky's home and other places, causing his performance in school to suffer. He also said that he tried to distance himself from the assistant coach, but that Sandusky reacted by harassing him and his family. As if reliving these moments for the sake of providing evidence was not painful enough, for both this young man and listeners, lead defense attorney Joseph Amendola sternly cross-examined him for an hour. Multiple times Amendola asked why the young man did not go to child services or the police, and why the number of times Sandusky had allegedly assaulted him were inconsistent. In fact, Amendola's repetitive and aggressive questioning prompted the young man to respond with "I'd like you to stop asking the same question."
Also on Tuesday, the defense questioned Mike McQueary, the former Penn State assistant who, as a graduate student allegedly walked in on Sandusky abusing a young boy in the shower of the Penn State locker room. He provided a graphic retelling of what he saw that day in 2001, but as with the other witness, the defense spent a lot of time cross-examining McQueary. He was asked why he had not gone directly to the police after allegedly witnessing such conduct involving a child. He stated that he spoke to Penn State head coach Joe Paterno, as well as other high ranking university officials, including the head of campus police. McQueary was also asked why some of the information he had previously provided, such as the year he witnessed the event and his estimate as to the age of the boy, were inconsistent. "I recalled a lot of things in my life that are very clear and vivid, and I don't remember the dates" McQueary said, along with "If we want to argue 9, 10, 11, 12, he was having sex with a minor." With such compelling witnesses, the defense may struggle in finding a winnable strategy. It appears that, without much else to argue, the defense will focus on the discrepancies between the witnesses' prior and current testimony. For obvious reasons, any defense attorney, in so doing, has to tread ever-so-lightly in cross-examining alleged victims of such horrific acts. If the defense is able to highlight glaring difference between prior and current testimony, as the defense is attempting to do, Sandusky's attorneys may be able to plant a reasonable doubt into the minds of the jurors. While all of us trial watchers are extremely skeptical that the defense will be able to pull off its strategy, as they say, the devil is in the details. And if those details dramatically change, then Sandusky may have a fighting chance at acquittal. I, however, don't believe that — with eight different boys taking the stand, looking into the eyes of each juror and telling the unbearably painful truth — the defense will be able to do so. But as our judicial system has revealed in the past, juries sometimes surprise us.