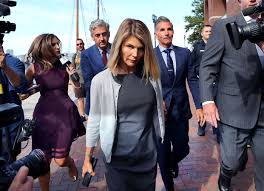 May 29th 2020
Last week, celebrity Lori Laughlin and her husband Mossimo Giannulli, a fashion designer, agreed to plead guilty to charges relating to wrongfully getting her daughters admitted to the University of Southern California.
They were charged with paying $500,000 to have their two daughters falsely designated as recruits to U.S.C.'s crew team to ensure that they be admitted to the university even though neither daughter ever participating in the sport.
Under the terms of the agreement, that still requires approval by the court, both would plead guilty to one count of conspiracy to commit wire and mail fraud. Additional charges of money laundering conspiracy and conspiracy to commit federal programs bribery, would be dropped. Ms. Laughlin would serve two months in prison and Mr. Giannulli would serve five months. They would also pay $400,000 in fines and do community service. Mr. Giannulli's longer sentence implies that he appeared to be more involved in the scheme. The deal is a steal for Ms. Laughlin as the prosecutors had serious evidence against her, including photographs of Ms. Loughlin's daughters posing on rowing machines that were false as well as fake crew resumes. If she went to trial and lost, there is no question that Ms. Laughlin's jail time would have been far more serious. Each were facing a maximum of 50 years in prison. While they certainly would not have received that sentence, if they lost, the sentencing certainly would have been for at least two to six times the amount they agrees to in the plea.